Farming
Farming is a very good way to build a self-sufficient base in terms of food. Some types of foods and Ingredients can only be obtained by farming. In Empyrion : Galactic survival farming is done by planting sprouts in a Growing Plot and placing a Plant Grow Light above them. Sprouts can be made in Food Processor. Farming gives a good amount of xp (100xp for planting, 200xp for harvesting at difficulty level 2) which helps to level up faster in early stages in the game.
At minimum, the following are needed:

With the introduction of oxygenated rooms and radiation in Alpha 6.0.x, radiation makes plants die quasi-instantly. Lack of oxygen prevents the growth of plants, but does not kill plants.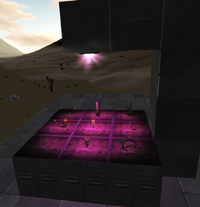 In order to start farming:
---
To learn more about farming see the farming guide (outdated).